Here is a video from a satisfied customer using Tiger Foam to insulate his basement roof.
Yes absolutely (would work with Tigerfoam again), the product worked great, company was easy to work with/talk to and it's my understand that some of the local stores are caring larger spray foam products for the DIY but these products are labeled as "air stops" and not insulation. They are of course foam insulation but can't provide you with an actual R value. I asked Tigerfoam and their answer was it's foam, R5 per inch (or something like that) and here is the paperwork to prove it. Loved it. –vcincgreen (Youtube user)
"The product covered the area I expected…even a little bit more…the application was under a mountain cabin to keep out cold, dust & insects."

− Bryce Allred (Lethbridge, Alberta)
"Thanks. By the way I'm super impressed with the quality of the product…so was the contractor, easy to install and it fixed my vapour issue big time…Thanks again. I will be getting more my garage for sure."

− Russell
"Just finished first half of project. You definitely have one very satisfied customer. Used a short piece of plastic hose for some hard to get at places with great success. My son-in-law helped me and cannot wait to use your product at his house."

− Dave Beedie
"Just a quick note to say the foam installation went very smoothly. I followed the directions and all of the safety precautions recommended – it couldn't have been easier. Well done and thanks!"

− Gord Shelley (Burlington, Ontario)
"That worked AWESOME!!!!!!!!!!!!!!!!!!!!!!!!!!!!!!!!!!!!!!!!!!!!!!!!!!!!!!!!!! Thanks again."

− Al
"Just finished spraying the basement of our 190yr old house. Great product. Did exactly what you claimed it would do. Heat & shake, spray away. Thanks guys & gals, I'm looking forward for a "warmer" experience this winter."

− Chris Stewart (NB, Canada)
"There are not enough words to describe the good things I have to say about Tiger Foam. "Awesome" or "Instant Gratification" come to mind.
Was I leery about purchasing a product over the web sight unseen….YES
Did it seem a little pricey….before comparing it to rigid Styrofoam and the fuss of adhesive….YES
Did it ultimately save a whole bunch of time compared to rigid Styrofoam……YES
Did the product ultimately overall save me time & money compared to rigid Styrofoam ……hands down YES
Did I notice a warmer house and NO MORE DRAFTS…..YES
Would I recommend this to any home owner who wants to save some heating dollars and enjoy the feeling of doing it yourself…..YES
Will I TigerFoam the next house we purchase?……It will be done before the boxes are unpacked!!!
A FANTASTIC product that I can't say enough good things about."

− Greg Combs (Medicine Hat, Alberta)
"Hey there, just wanted to write and say what an amazing product Tiger Foam is. I just got done using for the first time to insulate my basement walls and box joists, as well as a wall between my attic space and ensuite. I used the 600bf pack.
It was amazing, it was fast, easy to apply, and no were near as messy as I thought it would be. I found a great technique was to have another person follow me around and moving the tanks as I kept spraying, this way eliminating a lot of start and stop.
I will be ordering more of this to finish a couple of more spots in my basements, and I will be using this where possible as I continue to renovate my house.
The friend I had helping me was also really impressed by the product and is planning on buying it to insulate his garage. I will be recommending your product to friends.
Thanks for the great product."

− Matthew Lerpiniere (Kingston, ON)
"This product was used on a hundred + year old house, I did the crawl space when I first got the foam, (first week of Dec) this used two sets and covered up the walls nicely. This area has not had a source of heat in since and while it is cool it is not cold nor is there air movement.
I left the basement part until later as there was a lot of other work to be done first. On Friday January 1, I was able to finish up the material as I had all the wall perforations finished. I went outside and drilled 1 inch holes in the rim about 16 inches apart, board or areas closer as needed. As well this was the only the temperature was not double digit below freezing, only at -7.
I heated the product but as soon as I was outside the tanks lost all heat. This was easy to remedy. I took two large garbage cans and filled them partway with hot water. They kept the tanks at about 85 the entire time that work had to be done from exterior. I filled the rim until it came out a nearby hole. I then moved inside the basement and finished the cans off around the interior perimeter of the rim area. I had enough to place about an inch inside the rim and the top foot of the basement wall.
I had one baseboard heater in there so it was still very cold. This was the only day I could do it as it dropped to – 18 that afternoon and then a huge storm came in blowing 18 inches of snow everywhere, except in the basement as it had been doing. I came back to the house the next morning and with the rim sealed and top foot it made such a difference even with the huge temperature drop that I was able to work without a jacket on the next day.
Bottom line, fantastic product!"

− David L Cook (Stayner, ON)
"I just thought I would send you a note to tell you that my experience with you and your company was exceptional. The product actually arrived the next day, (fall on the floor) and I was able to apply it the following day and thanks to your advice, I was able to do it without a hitch. We immediately noticed the difference in the warmth of the basement. Again thank you for your great service and advice, I wish you all the success in the world."

− Jeff Quinney (Big River, Sask)
"I followed the directions closesly and used my kit the other day to fill some wall voids in awkward places, and I was really impressed with the performance! It certainly did all that was claimed, and each part of the kit was quality built for being a disposable. I had no problems with improper mix ratio or clogging. The spray pattern was great, and wow, fast rise is an understatement! If I think there is any market up here for it, I would consider distributing some."

− Bob (Whitehorse, Yukon)
"Just got around to using the kit I purchased.Thought I would let you know it worked great! I think it was the best product I could have used to seal up the basement of an old farm house."

− David
"Hello. Just wanted to e-mail you and tell how happy I was with Tigerfoam it did all i was expecting and more. Thanks for the expert help."

− J. Birt (Mallorytown, On)
Bill Scully uses Tiger Foam to protect infestation, improve insulation and save his customers money
Bill Bat Boy Enterprises Inc.
Phone:
Toronto: 416-201-2054
Georgian bay/Muskoka: 705-375-2911
Email: billbatboy@hotmail.com
Web: www.billbatboy.ca
Profile
Bill Scully has worked with bats and other mammals for over ten years. Bill, AKA "Billy Bat Boy" Scully holds a Masters degree in biology and is working towards his PHD at the University of Western Ontario. There are few people who can match his in-depth experience as a researcher and field biologist as he has spent much of his time in such exotic remote locations including the rainforests of Guyana, Brazil, Guyana, Costa Rica, Mexico, and India.
When I asked Mr. Scully why bats intrigue him so, he replied "When volunteering at a research station on the border on Costa Rica and Nicaragua some bat biologists needed some help and I agreed to offer my assistance. I quickly realized these were amazing animals and I decided that I wanted to learn more about them. There are over 1200 different species, ranging from the size of your thumb to bats with a two meter wing span. They have complex social structures. Most have the ability to echolocate which is amazing considering they can fly at high speeds in the dark of night catching something as small as a mosquito. I learn something new from the bats every day and still lots more to learn."
Gaining this great insight into the behaviour of bats lead Mr. Scully to start Billbatboy Enterprises Inc. while living on the islands of Georgian Bay, and when word got out that there was a bat biologist in the area, it did not take long for his business to take off solving bat infestation problems.
Looking for Improvement
One day, Bill was looking on the internet for a solution that could be used to replace soiled insulation and also possibly to help act as a barrier against bats and other mammals from entering attics and walls. He didn't know what he would find but his criteria included a product that was easy to install and would also have the ability to seal tight areas, which was crucial for closing up bat entry openings.
Bill stumbled upon Tiger Foam. He quickly placed a call to the Canadian Distributor and after a few short questions, was pleased with the possibilities. Rob Irvine, the President of Tiger Foam Canada claimed that the product would not only be easy to install and solve Bill's sealing criteria, but would also provide superior insulated R value. To add to the appeal, the Tiger Foam product was also quite inexpensive so it could be purchased at a reasonable price giving Bill the additional savings he could pass onto his clients.
Bill was still sceptical, but purchased a few tanks of Tiger Foam to try out at his own residence. After reading the instructions and placing a few questions to the Tiger Foam office, he experimented with how Tiger Foam would stick to surfaces and the expansion properties of the product. After a short time, he found that he was able to master the process without any training and the product did indeed to what Mr. Irvine had claimed.
Installation with Ease
Bill's typical procedure entails the initial removal of bat droppings called Guano. Once safely removed, fungicide and disinfectant are then applied in a sprayed on method. Any soiled insulation is then also removed and Bill then used a combination of steel wool and Tiger Foam to act as a screening barrier against his combatants (pun intended), which also includes rodents and squirrels as well as bats.
Portability is the key" says Scully. "Some of the areas in which I need to go to require a compact toolset and I can't be lugging heavy and clumsy equipment." During his use of Tiger Foam, the only issues early on was that Bill mistakenly sealed the wrong areas as non-insulated pot lights, an error which Bill is careful not to repeat. He also has had to make sure that he has a thorough understanding of the ventilation of attics and crawl spaces since Bill states that "you do not want to make areas too airtight which can cause mould and rot issues."
Billbatboy recommends Tiger Foam to all his clients as a portable, economical and sure way to help resolve both infestations entering man-made structures. He says that with the increased R value Tiger Foam offers, it makes the solution a no-brainer. Bill also raves about the company's service and points out that they always return calls immediately.
For more information on Bill Bat Boy Enterprises Inc. and a wealth of knowledge on bats, Mr. Scully's services, and research visit www.billbatboy.ca
Alen Milic uses Tiger Foam to insulate the "Julius", set to sail across the Atlantic.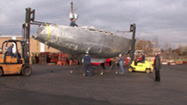 Profile
Alen Milic is the founder of High Seas Productions and has been working as a Producer/D.O.P. in film and television for over 20 years. Currently, Alen is working on a documentary about building a 35 ft. sailboat and will sail across the Atlantic. Building the Dream – A TransAtlantic Voyage is a documentary series about bringing one man's dream 'back to life'.
The sailboat is names after Julius Karu who left Europe over a half century ago and dreamed of one day returning to her shores in his 35 foot aluminum boat. Sadly, Julius passed away before his dream could be fulfilled. His grandson posted an ad online offering the boat for free if someone would use it to realize his grandfather's dream. Alen responded and on October 3, 2006 the story began.
Alen and his team stripped the sailboat down to the aluminum hull and began the rebuilding process. They finally came to realize that rebuilding the existing sailboat was not feasible and decided to build a new Julius following the original lines and design. From that design the new frame and plating was water-jet cut and then the building assembly and fabrication started.
Set to sail in 2009, the Julius will fulfill the dreams of Julius Karu and of Alen Milic and his team.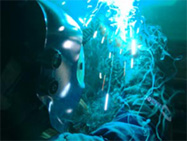 Looking for a solution
When building and insulating an aluminum boat, you have to think about welding and re-welding." says Milic. "Commercial foam products are flammable so the product would have to be removed from 2 feet around the area to be welded, which is a difficult and time consuming process. And as commercial foam applications require that the product be installed by the company where it was purchased, once welding was complete the company would have to return again to re-foam the area – which could be a costly endeavor."
"We also had to think about how to prevent condensation and still provide thermal insulation. Boat builders are faced with using a commercial foam application or standard materials used in house construction and standard insulation just doesn't afford great condensation protection." says Milic. "We needed a solution."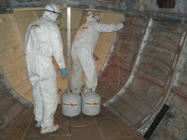 The solution: A fire retardant foam insulation that allows for quick welding, prevents condensation, and is easy to install.
"Tiger Foam is a fire retardant insulation that can be installed by the end-user. The fact that it is fire retardant is especially helpful when doing spot welding as only 2 inches around the weld area needs to be removed. And it's a DIY product which eliminates the need to call back a commercial foam installer for every time you need to fix or create a weld. It also provides excellent thermal insulation, prevents condensation and is environmentally friendly." says Milic.
"Tiger Foam is an excellent product for boat builders or any application which requires fire retardant insulation." Read more about Alen Milic and A TransAtlantic Voyage.
Read more about Alen Milic and A TransAtlantic Voyage.