Winterizing Your Cottage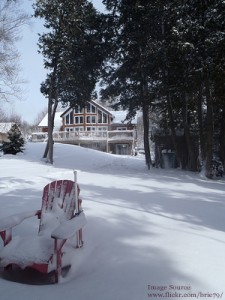 Winterizing a cottage with spray foam reduces heating costs and in other cases allows people to have a new getaway destination during the cold winter season. By using spray foam in your cottage, you are not only saving on heating costs in the winter months, but also on A/C during those hot summer nights. Spray foam is an innovative technology that allows you to be environmentally conscious by reducing greenhouse gas emissions. By producing less greenhouse gas emissions at your cottage you will be contributing to global warming prevention.
Winterizing Your Cottage with Tiger Foam
You may be asking, why air seal my cottage using Tiger foam? The number one factor why you should use Tiger Foam is that it will save you money! Not only will it substantially reduce your annual heating and cooling expense, but it will also cost you a lot less to have it installed. Cottages and other homes that have used spray foam in combination with insulation can reduce their heating and cooling costs by 30-50%! It's easy to apply and takes much less time for a company to come into your cottage and apply the spray foam.
Benefit of Spray Foam for Heat Retention
Another benefit of spray foam is that it reduces air penetration from getting into the building. If air is getting into your cottage during the winter months, it is sure to bring along moisture leading to mold and mildew infiltration. The Tiger Foam Spray Foam Kits contain polyurethane foam which acts as a barrier to air and moisture. It is also guaranteed to cure faster than comparable products that are available on the Canadian construction market today.
Winterizing a cottage has never been easier than with the spray foam kits brought to you by one of the most experienced and professional organizations in the industry.
Talk to an expert today at Tiger Foam Canada for your FREE consultation! Give us a call to get started today to improve the warmth of your cottage in the winter months. Go online to reserve your Tiger Foam Spray Foam Kits now!